Tired again. Went to bed at a decent time I think, did wake up fairly often though. Got kids up for school, stayed up another hour, went back to bed and slept another 3 hours.


labs drawn March 24, 2009:
Vitamin B12 - 389, range 200-1100
RDW - 15.8, range 11.0-15.0

lab drawn April 24, 2009:
MMA - 379, range 87-318

April 24 - first injection. A bit of nausea for the rest of the day, a deep burning feeling, like bone deep, in the arm right below where I had the injection. Had blood drawn for MMA test.
April 26 - realized for the first time since I could remember, my hands and feet were not freezing
during the week - felt even more tired than usual, slept a lot more.
May 1 - second injection, pain in the arm below injection site for a few hours.
May 2 - 11th anniversary, went out to the lake ready to swim and grill out, stormy day but cleared up by the time we got to the location, water too low to really swim where we went.
May 3 - had planned on going out to a park or something, but I wasn't feeling up to going out. No naps. Played WoW on and off, said goodbye to friends because I had previously canceled my account and would be out of time in the morning. Took an Ambien and a DDAVP.
May 4 - Got up on the first alarm I heard to get kids ready for school. Rainy day, but didn't really feel like going out anyway. Done 2-3 loads of laundry so far. Feel the need to rest in between doing things, but seem to be doing more. Got the hallway bathroom halfway cleaned, potty seat on the toilet for Maeve, she's excited to train :)
April 24th, discussed previously drawn labs with my doctor, most things were normal except my B12 and blood cell stuff (figure the elevated white blood cells due to having a cold at the time labs were drawn). Decided to go ahead and try the B12 shots.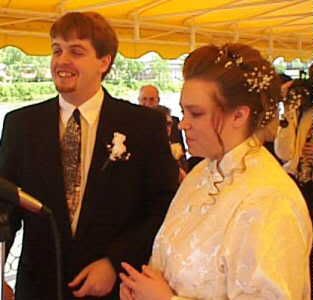 Tonight: flowers, chocolates, steaks (mmm ribeye for me!), salad, a card, and swimming.. baby's first time!
What we did: drove for 2 days, stayed with my grandparents, drank sap, took the kids to a sugar house to watch them make maple syrup, ate and drank maple syrup, let the kids play in snow (after hunting down waterproof gloves... even in Vermont, they were hard to find due to stores packing them up in storage), saw family I hadn't seen in years. I wanted to check out the junk stores (some have neat stuff, some have ... junk) but it isn't really the season for them to be open daily. Not a lot to do this time of year - snow is melting, lakes and such aren't open, no festivals, ground is soggy, but at least sap was running so we could do the maple syrup stuff. I hoped to find someone with cows we could visit but my grandparents didn't really know anyone with a nice place to visit, they said most cows are loose in the barns instead of in stalls and there's poop everywhere.
Had no internet or cell phone service, so when we came home I learned that the little boy whose website I've been keeping up with daily passed away on the 2nd day of our trip and his service/"party" was on the 12th, the 2nd day of our drive back. So very sad and it's hard to think of the fun stuff we did with this on my mind. I have some cute videos of Maeve in the car but I don't feel like uploading them to youtube right now.
(
slideshow
Collapse
)
Well, haven't been on a vacation in just about forever, and hadn't visited Vermont since I was pregnant with our 7 year old, so that's what we did this year. I don't feel like pasting a billion individual pictures so here's a slideshow I hope.


Then I asked for help finding a Captain Underpants book for Adrian, since he has loved the ones he bought at book fairs, and if he will at least READ if he has a funny book, I don't mind buying them. Chatted with the ladies that work there for a little bit, one was from Nashville!

So, they do this a few times a week... today the parking lot was packed! Might end up going to this at least once a week, Maeve doesn't have contact with many kids around her age.
Today we went to a infant/toddler story time at a cute little childrens bookstore nearby. So many people showed up, we filled the room! We started out with singing. Maeve loves music, had never heard these songs and sat there covering half her face or having her hands in her mouth.. finally they sang Twinkle Twinkle Little Star and she perked up, then she joined in clapping after the song. During the 2 books she tried to get off my lap and once I had to chase her as she took off into another room in the store. Then they handed out sheets of construction paper, with cutouts of a shark, squid and other stuff since the book that was read was about a squid... the kids were supposed to use glue sticks to stick the cutouts on the paper and then color on it. Maeve didn't do too well with that lol... she held the glue stick upside down every time she tried to glue, and didn't color too much though she does love using pens and pencils at home (just look at my walls!)
Adrian wasn't feeling good from the time he walked in the door... husband has been sick most of the week.. I've been on and off, thought my turn would be last night with how I was feeling.. husband threw up a couple hours ago and then Adrian and I were almost at the same time (glad we have 2 bathrooms) but now I feel much better.. Adrian seems to have a fever and isn't feeling better. Tomorrow morning is Muffins With Mom at school and I don't know if we're going to make it. Can't wait for this shit to be over with. Baby fell asleep on the floor a couple hours ago but woke up right before I was going to put her to bed and now she's still awake.